Patio
Calor Patio gas is perfect for fuelling BBQs and patio heaters and comes with the Gas Trac indicator.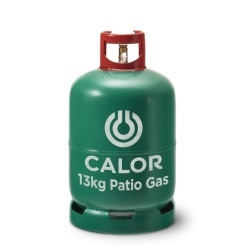 Patio Propane 13kg
Calor 13kg Patio gas bottle is ideal for patio heaters and as BBQ gas for barbecues with four burners or more, making it the perfect solution during the long summer evenings. This bottle comes with the innovative built-in Gas Trac® indicator which lets you know when it's time for a refill.
Patio Propane 5kg
With enough gas to fuel up to 14 BBQs, the Calor 5kg Patio gas bottle is the perfect choice for powering your small & medium BBQs (three burners or less) or table top heater. The gas bottle has been designed to be light, easy to carry and convenient to store.
Cylinder Refill Agreement
What is a Cylinder Refill Agreement?
Calor's Cylinder Refill Agreement is the contract with Calor you sign when you get your first bottle from Calor direct, or through a re-seller like us. Once you have a refill agreement in place, you can exchange your empty bottle for a full one with any re-seller.

You can cancel this agreement at any time by returning the bottle to us and receive up to a 70% refund. See Calor's Website for more details, and contact us to sign up.